Saturday, February 26, 2005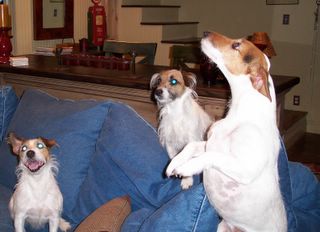 OH MY GOD do you have something for us to eat? Do you have any rats that need catchin'? We are ready to move out and on to task in an instant.

posted by PlazaJen, 9:54 AM
|
Riding the bike with one pedal. (It's not as easy as it sounds.)
About Me
Name: PlazaJen
Location: Kansas City, Missouri, United States
I'm a one-woman stand-up whirlwind who can be incredibly lazy and incredibly funny, sometimes at the same time. I write bitter haikus, cook Thai food, love my husband & our dogs, love my friends & family, and the rest of my time centers around yarn & knitting, with sporadic crafting thrown in for good measure.
My Button!
Bloglines...
Flickr Me This...
KC Hip Knit Chicks:
Peeps & Homies:
The Global Blog Village:
Previous Posts
Archive
The Fine Print, Read Rapidly & Unintelligibly:
Passion Knit. Population: Me. Yarn: In Abundance. Humor: Necessary. Ranting & Raving: Often.
Who Links Here